Modern methods of construction add to arson and hot works fire risks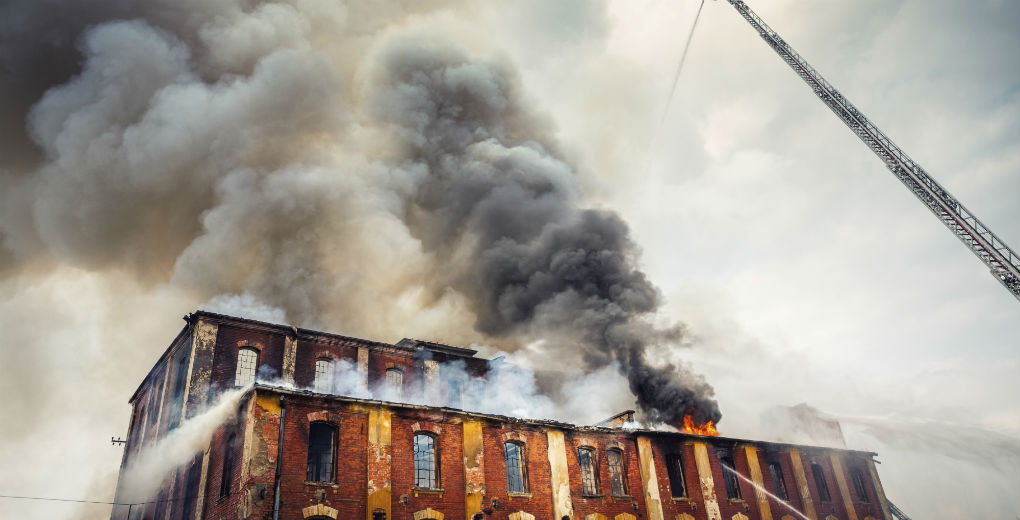 Arson and hot works are among the most common causes of fire in the UK, whilst modern methods of construction are also a leading factor in many fires. With this as a backdrop, businesses and organisations need to manage and mitigate the risks.
According to the National Fire chief's council, arson and wilful fire raising remain the most common and damaging causes of fire. Over 50% of all fires attended by fire and rescue services in 2017/18 were due to arson and the estimated financial loss over this period was between £5.7 bn and £11.5 bn. 
Malicious or deliberate fires are not uncommon in empty premises. While such fires will remain a significant issue, regardless of the economic downturn, it is likely there will be more deliberate fires, particularly if the volume of vacant properties increases.
Schools also at risk
Schools can also be at greater risk of malicious fire setting, particularly during long periods where they are of unoccupied. They can take a number of measures to reduce risk, from reviewing and upgrading building security, to relocating combustible external structures, such as sheds, waste and litter bins or temporary buildings, away from main buildings. Organisations should also conduct routine inspections ensuring procedures and maintenance schedules are up-to-date, and implementing effective incident reporting processes.
Hot works
Hot works are defined as any building, maintenance or refurbishment work that requires the application of heat, such as grinding, welding or torch applied roofing and as such represents another major fire risk. CE Safety, a health and safety training company, submitted Freedom of Information requests to UK fire and rescue departments to determine how many fires in the construction industry were caused by hot works. The data they received revealed there were 204 buildings under construction that caught fire because of hot works in 2018/2019 in the UK.
Poor practices and processes can lead to explosions as a result of sparks coming into contact with flammable gases or combustible dusts and injuries including burns and inhalation of fumes.
 To mitigate the risks posed by hot works, organisations need to:
Fully understand the nature of the works taking place and the specific risks they pose
Select experienced contractors who will select the lowest risk methods
Remove all combustible materials from the site vicinity and apply the right controls
Maintain fire watches during breaks in the day and after hot works have finished
Establish proper procedures for dealing with an emergency
This is not an extensive list of the measures that can be taken, and new technology may help reduce the risks of hot works in the future.
Changes to the built environment
More and more organisations, including local authorities and housing associations, are embracing modern methods of construction (MMC). New technologies are used in the construction of a variety of buildings, from small blocks of flats to education, health, and leisure centres. As construction practices and technology continue to develop rapidly, taller, and more complex buildings are being erected using MMC.
The use of MMC can be particularly attractive to local authorities and housing developers looking to construct public buildings and social housing developments in the most effective manner, whilst meeting the latest standards of sustainability and environmental performance. Although there are many benefits of MMC, including reduced costs, minimising waste, ensuring greater consistency in quality standards, and satisfying green energy requirements, they can introduce added risks. There is potentially a reduction in resilience when compared with more traditional builds, both during construction and throughout a building's lifetime. 
Pre-fabricated designs
Advances in pre-fabrication are enabling larger and more complex building components to be manufactured off-site and assembled on-site. Ranging from wall panels to whole sections of buildings, including plumbing and electric fittings, this can make construction quicker, cheaper, and more accurate. However, there are additional risks associated with these aspects of MMC. For example, voids between modules can allow fire, water, and smoke to spread through a building.
Changes of use
In the modern built environment, many buildings are changing use which can present new fire risks. As an example, a few years ago there were a number of former refrigerated warehouse units being converted into offices and other uses, but with the original combustible insulation in place. That situation has changed, but there remains the possibility that a similar scenario could emerge as other buildings are re-purposed.  
To find out how CCS Insurance can support your business, call our team on – 01483 726777.